Gain a competitive edge with the best actionable marketing strategies for your small businesses. Check out these strategies that have a proven history of success.
1. Know who you're targeting
TAR Productions, a video production company, had around 260–1,300 monthly visitors for their top posts. Yet, they weren't driving any high-quality leads from their traffic.
When content marketing agency Grow and Convert investigated, the problem was obvious:
Their posts were about video production, but their ideal clients weren't producing videos.
So instead of attracting their ideal clients, their content was attracting other video production companies—who were never going to purchase their services.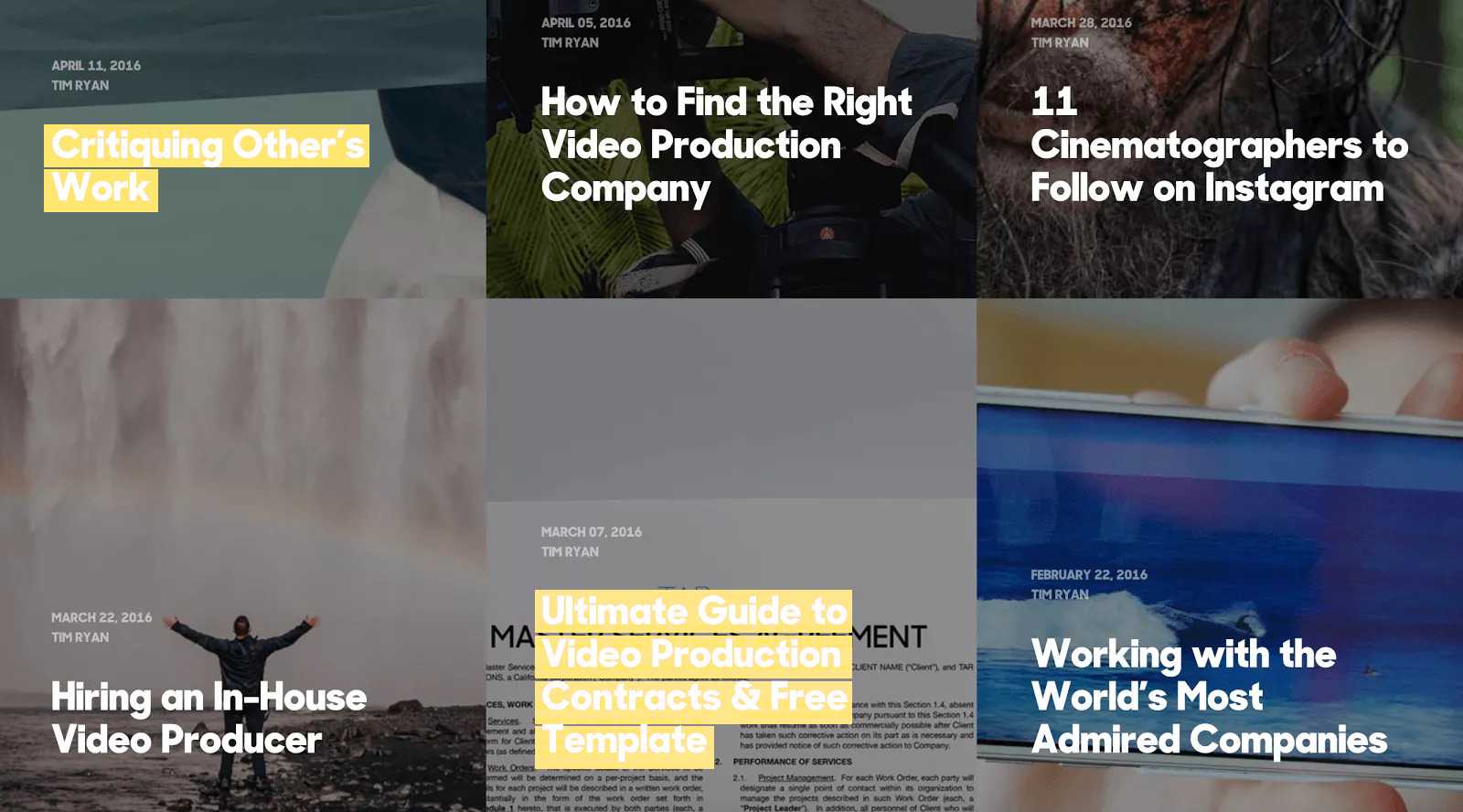 Many small businesses make the same mistake. Rather than creating content for their target audience, they create content for others like them. For example, a CRO agency writing about CRO attracts CRO experts, and a photography studio writing about taking beautiful photos attracts amateur photographers.
You need to figure out who your exact target audience is to market to them effectively. If you've done your market research and created customer personas, then this should be easy. You'll already know who you're trying to reach.
For example, if you're a photography studio in Singapore, a potential target customer could be:
Millennial couples (25 — 35) in Singapore who are getting married.
Don't yet have a target customer statement like this? Don't worry. Use the guide below to create one for your business.
2. Double down on what's already working
Nobody can execute every marketing tactic in the book because nobody has infinite resources.
That's why it's crucial to allocate your marketing resources accordingly.
The best way to do this is to find out which tactics are currently working and spend more on them. You can scale up the channel by creating standard operating procedures (SOPs), hiring more people, investing in tools, and so on. If something is generating returns for you, do more of it.
3. Eliminate tactics that aren't working
Just as it makes sense to invest more into what's working, it makes sense to invest less into what isn't working. Don't try to brute force a channel into working for your business. Use your resources wisely.
4. Build an email list
Every week, we send a newsletter with all the content we've published that week to 120,000+ subscribers.
These are not random people. These are people who have explicitly told us they want our content.
How did we do that? Simple: we built an email list.
Email may be a relic in internet terms, but it's surprisingly reliable as a marketing tool. Social media platforms can throttle your reach deliberately, but email allows you to communicate with your audience anytime.
To build an email list, you'll have to convince website visitors to subscribe. The easiest way is to offer something in return for subscribing. Most sites offer things like a free eBook, a course, and sometimes, a discount.
As for us, we have a simple "subscribe" opt-in: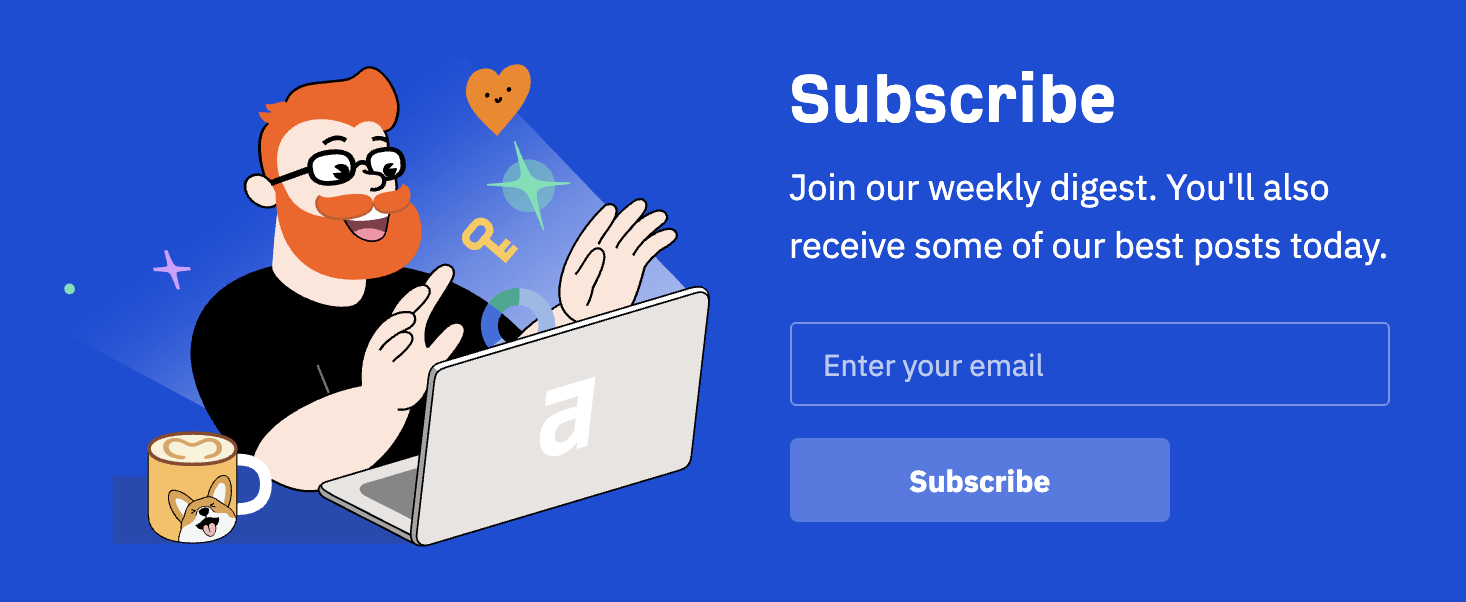 You can do the same or offer something else—the world's your oyster.
5. Nurture your subscribers
In the end, the number of subscribers you have is just a number. They won't magically buy from you just because they've subscribed. You have to engage and nurture them, and that means sending emails regularly.
But what should you send and how often should you send it?
The answer is different for everyone.
The crucial part is that you set an expectation upfront and then meet it.
For example, on our blog, we promise to send weekly updates on our content for anyone who subscribes—and that's what we do. Once a week, we send a newsletter with all the content we've published that week.
In other words, we give subscribers exactly what we promised them.
Your "promise" might be different from ours. But whatever it is, make sure you stick to it.
6. Nail your product positioning
For most prospective customers, you're no different from any of your competitors. After all, you're not the only gym or Italian restaurant around. So there's no reason whatsoever for them to choose you specifically.
That is unless you explain why.
In marketing, we call this "positioning."
Your positioning should make it crystal clear to potential customers what your product or service is, why it's different, and why it matters to them.
Fail to do this, and they won't buy from you.
Positioning is not something done in a day, and writing about it would take an entire book (in fact, there are tons of books on positioning!) But the most practical way is to read Obviously Awesome and apply its step-by-step framework.
Here's a quick one:
Understand who your best customers are (Tip #1!).
Form a positioning team and align your positioning vocabulary across teams/departments.
List your competitive alternatives.
Figure out the attributes and features that make your product/service unique.
Figure out the true value of these attributes and features—what do they do for your customers?
Find a target market that makes your value obvious to the customer segments that care most about your unique value proposition.
Capture your positioning in an evergreen document that can be shared across all teams.
7. Sign up for Google My Business
Google My Business is a free tool that allows business owners to create, manage, and optimize their Google Business Profile. Doing this helps you rank better in relevant Google searches—both in web search and Google Maps.
Optimizing your profile will probably take around 30 minutes, so it's a quick win that you shouldn't miss out on—especially if you're serving local customers.
8. Do SEO for your existing pages
53.3% of all website traffic comes from organic search. And 76% of people who search on their smartphones for something nearby visit a business within a day.
Translation: if you want more customers today, you have to rank on Google.
But you can't just create web pages and pray that you'll rank. In fact, according to our study of one billion pages, 90.63% of pages get zero traffic from Google.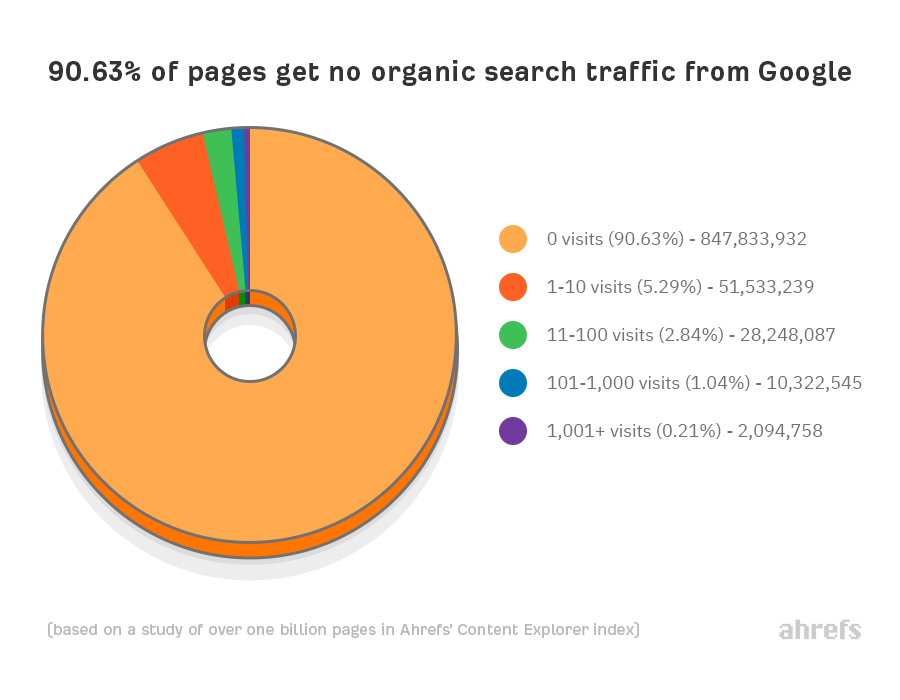 The overarching reason: these pages were not optimized for search engines. And if you want to rank high on Google, you'll have to do search engine optimization (SEO).
Broadly speaking, this involves:
Knowing what your customers are searching for. Do keyword research to help you figure out which topics your customers are searching for.
Optimizing your pages. Follow SEO best practices to make it clear to Google that your page is the best result.
Getting people to link to your pages, whether organically or via outreach.
9. Start a product-focused blog
How do you do it?
a) Target topics with search traffic and business potential
SEO isn't just for your existing pages; it's for new content too. So if you want your blog posts to generate consistent and passive traffic, you'll have to target topics with search traffic potential.
Following tip #8 should have given you a clear idea on how to do keyword research, but here's a quick demonstration on how to find topic ideas for your blog if you sell tea online:
Enter a relevant keyword (e.g., "tea") into our free Keyword Generator.
Click on the Questions tab.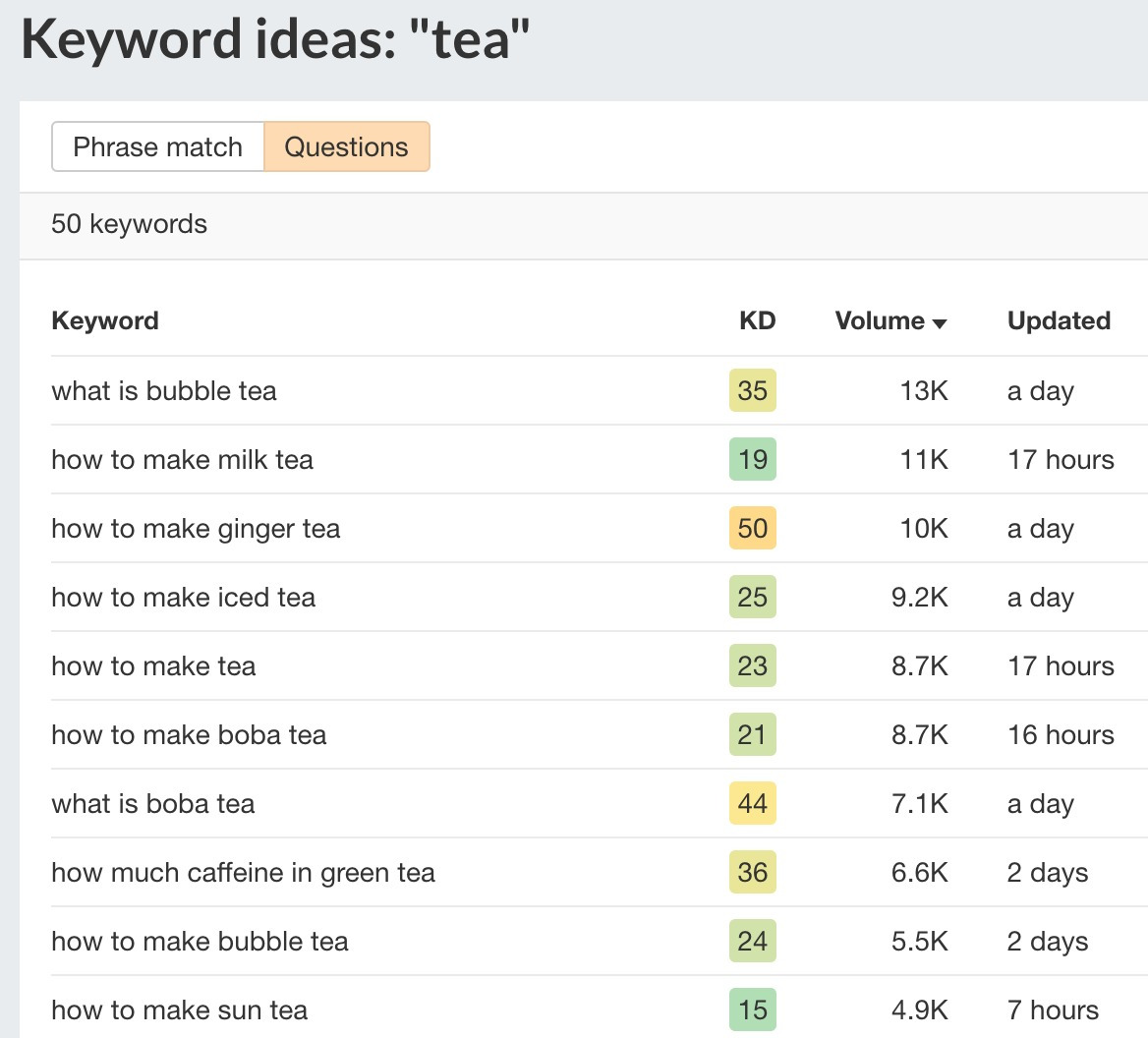 Here's the chart we use at Ahrefs: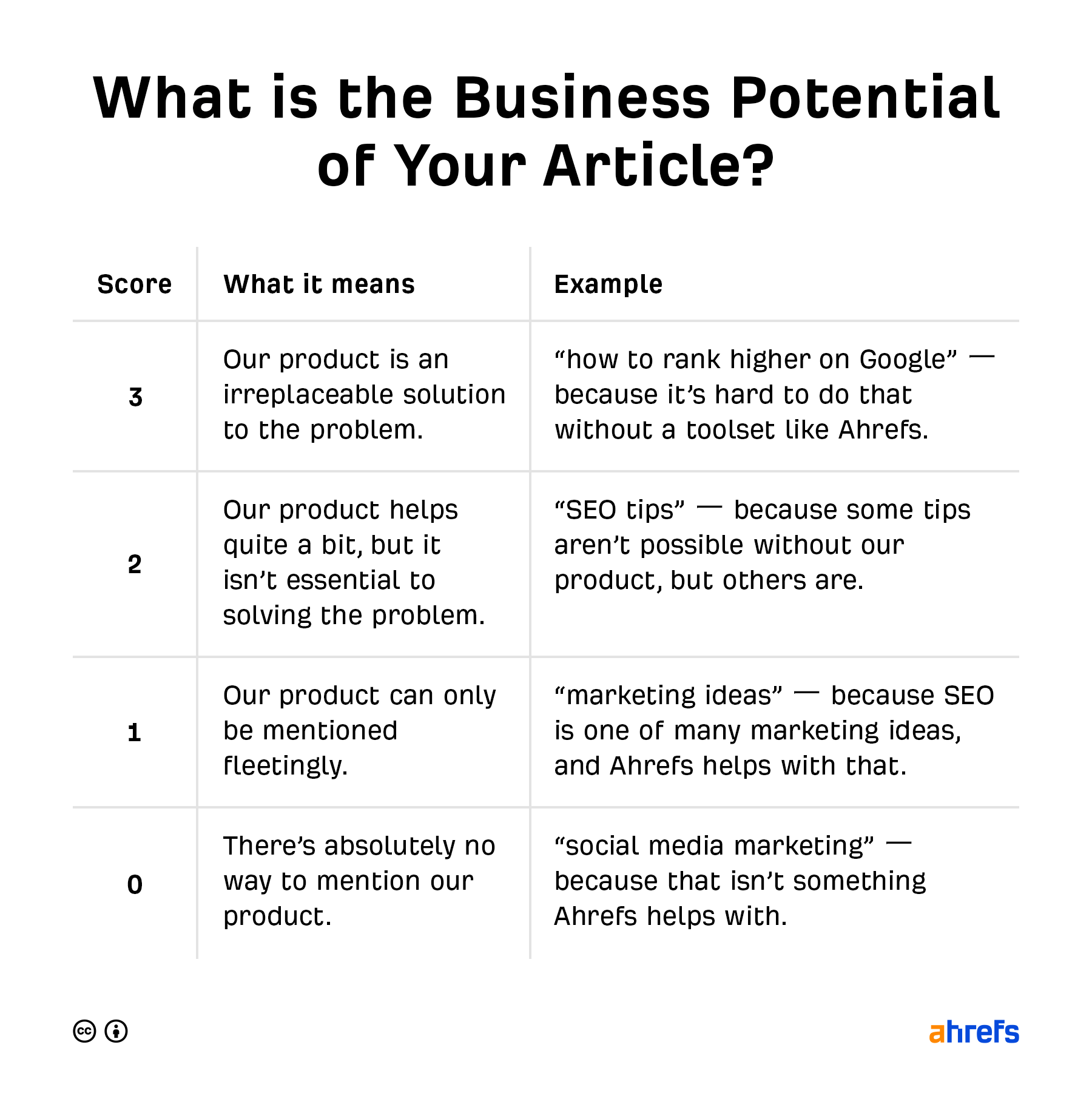 b) Create great content and weave your product into the narrative
10. Update your content regularly
Not every blog post you publish will rank on the first attempt. That's okay. You can always try again. Just rewrite and republish.
You can use our free WordPress SEO plugin to check your site for underperforming posts. Then follow the guide below to learn the best way to republish your content.
11. Repurpose content on multiple channels
Each piece of content we create takes an incredible amount of time. It would be a complete waste to hit 'publish' and forget about it. Instead, we want it to go as far as it can. And we do this by turning a piece of content into multiple formats.
For example, when we republished our SEO checklist, we tweeted about it. Then, two months later, we tweeted the actual checklist itself, which got a lot of attention:
12. Get included on 'best X in Y' lists
No matter where you are in the world, there will be "best X in Y" lists for businesses like yours.If there are any relevant lists like this for your business, you want to be on them. Otherwise, you're missing out on potential traffic, brand awareness, and customers.
13. Give things away for free
Everybody loves a freebie, but for freebies to work as a marketing tool, you need to give away something that attracts potential customers.
This is the mistake that many marketers make. They give something away that's utterly unrelated to what they do—like an iPhone or iPad—and then wonder why none of the people they attract turn into paying customers.
Give away free samples of your product, free swag, or sponsor events by giving free pizza/beer—the sky's the limit.
14. Be the face of your business
People don't buy from businesses; they buy from people.
That's why you shouldn't be afraid to stand in the public eye and represent your brand and business.
But what if you're publicity-shy?
Get one of your best employees to be the face of your business instead.
15. Work with influencers
No charismatic employees?
Not a problem. You can always work with influencers.
Influencers are people who have an active, sizable audience (usually on social media) and the ability to influence their audience to do something.
You can work with them on one-off campaigns or turn them into brand ambassadors.
It doesn't have to be expensive either. Nobody's asking you to get Jackie Chan to dance for your ad. You can always work with nano and micro-influencers to get your campaign started. Their audience might be smaller, but these influencers have a stronger ability to influence their audience to buy your product.
16. Boost popular social media posts
Was it all organic?
No. We saw that it was performing well, so we gave it a paid boost.
You can do the same. If one of your social media posts is doing well, give it a boost. That way, you can reach more people, build brand awareness, and get more customers.
17. Partner with others
In 2018, we worked with Buffer, a social media scheduling tool, to create a webinar titled "How to Get Website Traffic With Evergreen Content and Social Media Marketing."
We didn't compete with each other. We mainly targeted SEOs, and Buffer targeted social media marketers. However, both groups fall under a larger umbrella—digital marketers—and digital marketers can use both of our tools simultaneously.
This made us a perfect match for collaboration.
You can do the same, too. Look for other businesses that serve a similar audience but do not compete with you directly. For example, if you have a health foods brand, you could partner with a local gym.
That way, both of you can tap into each other's audiences. Win-win.
Final thoughts
I hope you've walked away from this post with a handful of actionable tips you can test for your business.